< Back to People – Album 1 / Pictures home page
Updated 11 March 2020.
This photo, taken in Montreal, Canada by William Notman, forms part of the McCord Museum's collection of images and is used here under a Creative Commons licence (Original image). It depicts "Lt. Col. and Mrs. Atcherly, 30th Regiment" and was taken in 1863, not long after the couple's marriage on June 4th of that year. Brevet Lieutenant-Colonel Francis Topping Atcherley  [
] was a Crimean War veteran serving in Canada with the 30th Regiment of Foot.
The photo above shows Francis wearing his medals: the British Crimean War Medal with clasps for Alma and Sebastopol (right), the Turkish Crimean Medal (left), the Legion of Honour (bottom), and the Turkish Order of the Medjidie (top). The original photo is in an album belonging to Mary Alma Una Downing, a descendant of the Dickin family; this image of the photo is adapted from one taken by Mary's great niece Penny Thorn and was kindly supplied by David Edge (who also provided me with details of the medals).
Francis married Emma Arabella, second daughter of Francis Harris Heward and his wife Eliza (née Paul) of Toronto, in St George's church in that city. After retiring from the Army by the sale of his Commission on 21 Mar 1865, Francis remained in Canada with his family and joined the Militia, becoming Deputy Adjutant-General of Military District 4. In that role, he helped to defend Canada from the Fenian raids of 1866 and 1870.
The following was written in celebration of the union of Francis and Emma (transcribed from a copy held at Shropshire Archives, Class: BA 86 v.f.).
A SONG,
WRITTEN ON THE OCCASION OF THE
MARRIAGE OF LIEUT.-COL. ATCHERLEY,
30TH REGIMENT,
BY WILLIAM ROBERTS.
Oh! remember the time in the Crimean War,
When the battle of Alma was fought ;
When the vain Russian General so vainly did boast,
And his boasting was soon brought to nought.
His position, he said, for three weeks he'd maintain,
In the face of the brave Allied Powers ;
But they made it too hot to hold him and his men,
In a less space of time than three hours.
Oh! remember the time when on Inkerman's height,
The dense masses of Muscovites pour'd ;
When the brave British boys in that deadliest fight,
Defeated the great Russian Horde.
When Atcherley, with his brave handful of men,
Did gallantly keep them at bay ;
And held them in check until succours arrived,
That drove the proud foemen away.
The war it went on amid battle and strife,
Till the town of Sebastopol fell ;
When the Czar 'gan to think it was time to have peace,
For he saw his mistake very well.
So the war was then ended, and peace was restored,
And the Allies their forces withdrew ;
But not till they'd made the proud Russian Bear,
Succumb to the Red, White and Blue.
The Yankees next promis'd to give us some work,
And warm work they said it would be ;
For their forces could easily Canada take,
And beat us by land and by sea.
But Russell and Palmerston soon took the hint,
And our soldiers to Canada sent ;
Determin'd to see what the Yankees would do,
And repel them if they should attempt.
These great preparations the boasters did daunt,
And they gave up their plans in affright ;
For the Yankees, I think, are that sort of dogs,
Who are more apt to bark than to bite.
But our Colonel went over to conquer, and he
In his purpose was not to be baulk'd ;
He went to be victor, and victor he'd be,
Though the Yankees so loudly they talk'd.
With a heart warm and free as a bold British Tar,
He determin'd at once to them prove,
That a brave British Soldier so gallant in War,
Could also be gallant in Love.
A "Ministering Angel in human form,"
Very soon, with delight, he espies ;
The "Fair Maid of Canada," is woo'd, and is won,
And he bears her away as his prize.
He consider'd, as most likely I should do,
And ev'ry one else, I suppose,
For he thought (and a very good thought it was too)
That 'tis better to win friends than foes.
Then wish them, with me, every blessing and say,
"May happiness long them betide ;
Long life, health, and wealth, unto brave Atcherley,
And his Bonnie Canadian Bride."
"Mrs. Col. Atcherly" photographed in 1867 by William Notman (another image from the McCord Museum's collection, used under a Creative Commons licence). Although known as Emma Arabella Heward at the time of her marriage, the register of Christ Church, Montreal shows that she was baptised (on 3 May 1841) as Arabella Emma. Within four years of this picture being taken, Emma had died, aged just 29. Original image.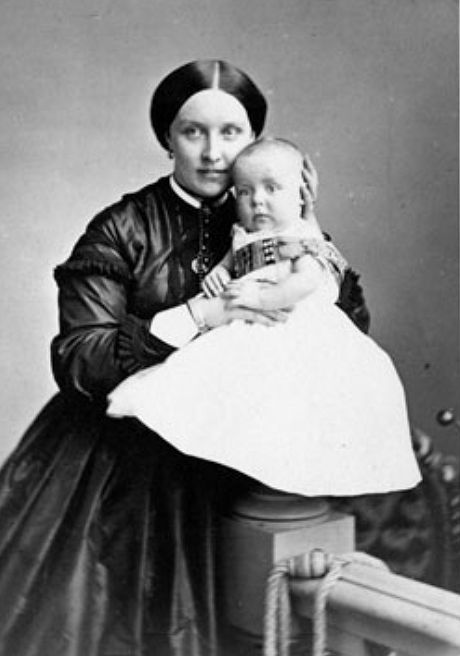 This beautiful photograph of "Emma Atcherly and child" appears by kind permission of Archives of Ontario (image number I0042638). I have no information as to exactly where and when the picture was taken (it would have been somewhere in Canada in the 1860s), so the identity of Emma's child is therefore a mystery. Was it the little chap in the next photo?
This final picture by William Notman (again from the McCord Museum's collection and used under a Creative Commons licence) also dates from 1867. Although it is apparently of "Master H. Atcherly" the little boy shown must actually be Francis and Emma's first child, Francis Robinson Hartland Atcherley. Born on 8 Jan 1865 in Toronto, Frank would have been 2 years old when this photograph was taken. Following the death of his mother in 1871, Frank and his three surviving siblings left Canada with their father and came to England, before moving to the coast of north Wales. Original image.
I suspect that it was in a north Wales photographic studio that the above photograph of Francis and the late Emma Arabella Atcherley's children was taken. From left to right we see Richard Topping Beverley Atcherley, Llewellyn William Atcherley, an older Francis Robinson Hartland Atcherley, and Catherine Emma Grace Atcherley. My thanks again to Penny Thorn and David Edge for the original image which I have adapted for use here, and for the next picture too.
It was perhaps also in a photographic studio in north Wales that the above photograph was taken. It shows Jane Louisa Atcherley née Dickin, the second wife of Francis Topping Atcherley. The couple were married at Loppington in Shropshire on 21 November 1872, when Jane became the stepmother of Francis's children. I suspect the photo here shows Jane in mourning, after the death of Francis on 16 June 1875 at Llandrindod, Wales, at the age of 47. Jane lived to the grand old age of 92, and died in London on 5 August 1924.
View Francis Topping Atcherley's page in the Atcherley Family Tree